'UFO' Spotted Over South Pole
Hi Guys!
I just came across this article on the 'Business Insider' website...It concerns a Youtube video that has cobbled together a few frames of time lapse shots that were taken of the Antarctic research station Neumayer-Station III on august 10th, and appears to show a perfectly formed spherical UFO?...or just a weather balloon?
As a person that stands firmly in the Pro-ETH camp, I have looked at a uncountable number of photographs , videos etc, just in case the thousands that have seen them before me have carelessly overlooked the glaringly-obvious smoking-gun!...[haven't found it yet. lol.]
And in my humble opinion after initially seeing 'the antarctic sphere' I would say that It is a pretty good picture , but is what I personally believe to be standard fare for this type of pictorial evidence!..."Could be anything?...in this case ,..most likely a balloon!"
Take a look for yourselves...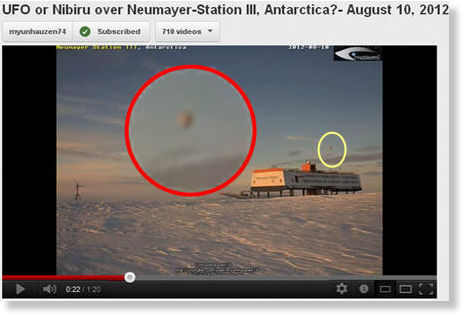 ....But the reason that I bothered to post this thread , was to express my thorough contempt for the kind of sarcastic , condescending 'bullcrap' that regularly comes straight from the mouth , pen or keyboard of the likes of Benjamin Radford who is deputy editor of Skeptical Inquirer science magazine and author of this article....
http://www.businessinsider.com/spherica ... ole-2012-8
I was going to go into a tirade of counter insults, generously laced with a commensurate amount of vituperative personalisations of 'the extra hard-line sceptics' (a.k.a..the debunkers! ) such as Menzel, Klass, Oberg , 'Radford ' etc,...and also point out the sheer crassness of expecting any logically-minded reader on either side of the fence to accept the statement of .."it also appears to be nearly perfectly round and about the right size for a balloon."...as some kind of proof that the image must therefore be of 'a weather balloon'!... A clear indication that the 'burden of proof standards' are not quite in sync , and is indubitably biased toward the anti-ETH camp ! [Why doesn't he use his influence to get the definitive proof that this was a weather balloon exercise directly from the horses mouth at the Neumayer-Station, instead of stating that "a definitive explanation has not been found", ?.]
....And there are more holes such as this in Radford's summarization of the antarctic-sphere ...but to tell you the truth,..I just can't be bothered now!...the five minutes or so that it as taken me to make this post has been ample time for my imperturbation to return.
...except to say that although the fact is that I would agree with Mr.Radford's assertion that the photographed anomaly was probably a Balloon of some description...The general egocentrism that is constantly displayed by the likes of the Skeptical Inquirer, Bad Astronomy, UFOskeptic magazine's et al , is both sickening and detrimental towards what is supposed to be 'the common goal of All who are interested in the UFO/ETH genre..."Finding And Accepting The Truth Behind The Mythos"!, and not just simply using this picture to launch a general all-out attack on the pro-ET/UFO community!
Cheers.
GORT...KLAATU BARADA NIKTO.